After 2 years of research and development Pride Racing introduces us this new carbon fork named SLIK.
Designed in one piece for greater reliability the Pride SLIK carbon fork has a sober and elegant design. Its 100% carbon HM Torray® T700S x T800S monobloc construction combined with its polymethacrylimide polymer internal structure makes it possible to increase the strenght and solidity of the assembly.
Tested on the 2018 World Cup circuit with Jeremy Rencurel.
Caracteristics :
Material : Torray® T700S x Torray® T800S carbon fiber with PMI Internal structure
Construction : 100% Carbon
Technical Characteristics :
Steerer tube thickness : 4,8mm

Steerer tube length

 : 175mm
Fork height : 358mm
Offset : 30mm
Aluminium sleeve for M18 x 1,5mm screw
Steerer tube non cutable
Tightening torques:
IMPORTANT : Always use torque key

Compression bolt tightening : 3 Nm

 (Max)

Stem bolts tightening : 8 Nm

 (Max)

Dropouts x hub bolts : 8 Nm (Max)
IMPORTANT NOTES

This was designed and created for the BMX RACE only.
Compliant with EN and CPSC safety requirements. Complies with the EN 14781 standard. It is always up to the buyer to know his own limits and how we interact with him. Able to absorb a big collision. After a crash or collision, please check your fork. If you suspect that your responsibility to do so is analyzed by a professional integrity of your fork. Always respect the tightening torques. If possible, use a split race
Complies with the safety requirements of EN 16054 Category 2 - Tested by an independent laboratory in France, member of COFRAC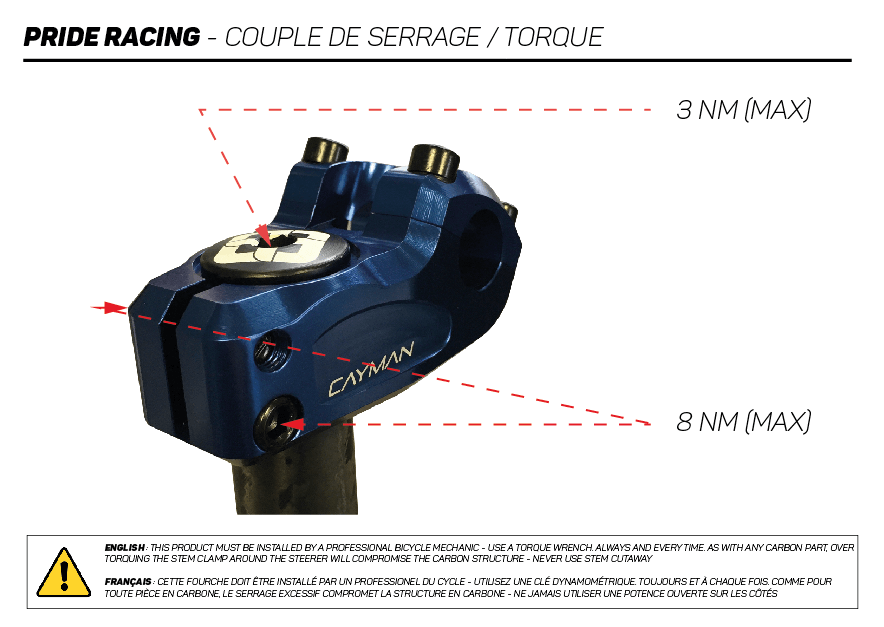 TYPE

new

BAR ENDS

M18 x 1.5

WHEELS COMPATIBLE

24"

OFFSET

30mm

STEERER TUBE SIZE

1"-1/8

STEERER TUBE LENGTH

175mm

MATERIAL

CARBON

WEIGHT

609 grams